Improving user engagement across the ARENA digital channels by 31%
Project
Website Optimisation
Overview
The Australian Renewable Energy Association (ARENA) is a government agency working to accelerate Australia's shift to reliable and affordable renewable energy. ARENA's website and blog are critical channels for sharing industry news, insights, projects and funding opportunities to energy specialists and the general public.
Because ARENA's site visitors and administrators were facing significant accessibility and user challenges, the agency hired us to develop an optimised website using WordPress. By partnering with ARENA's team and consulting with key stakeholders and users throughout the project, we were able to design, test and launch an intuitive, user-centric and accessible website.
ARENA's new website has increased site visitors and session duration, been praised by stakeholders and industry peers alike, and received a 2019 GOV Design Award.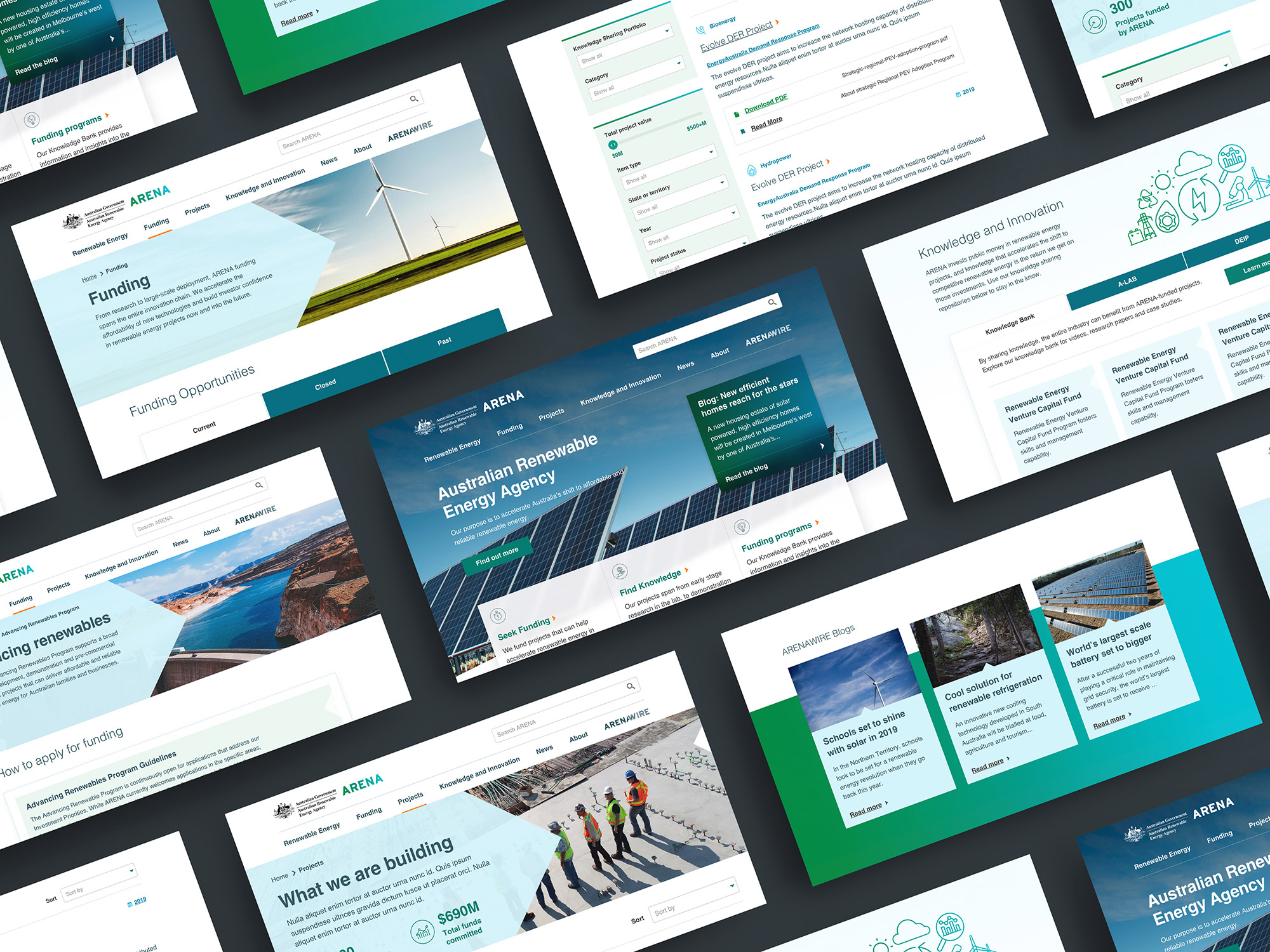 Challenge
ARENA's old website had an overly complex information architecture. Its content was buried deep within the site, and a complicated search function made it hard for visitors to find the right information. The funding application process was also confusing, which resulted in a high volume of phone calls to ARENA's support team and many ineligible applications. The website wasn't optimised for mobile and didn't follow WCAG AA 2.0 accessibility standards. Furthermore, branding between the ARENA website and blog was inconsistent, creating a jarring user experience.
ARENA partnered with us to overcome these issues and transform the way they operate online. They envisioned a website that empowered the public and energy providers in their search for credible information on renewable energy. They also wanted funding applicants to have the capacity to quickly assess their eligibility.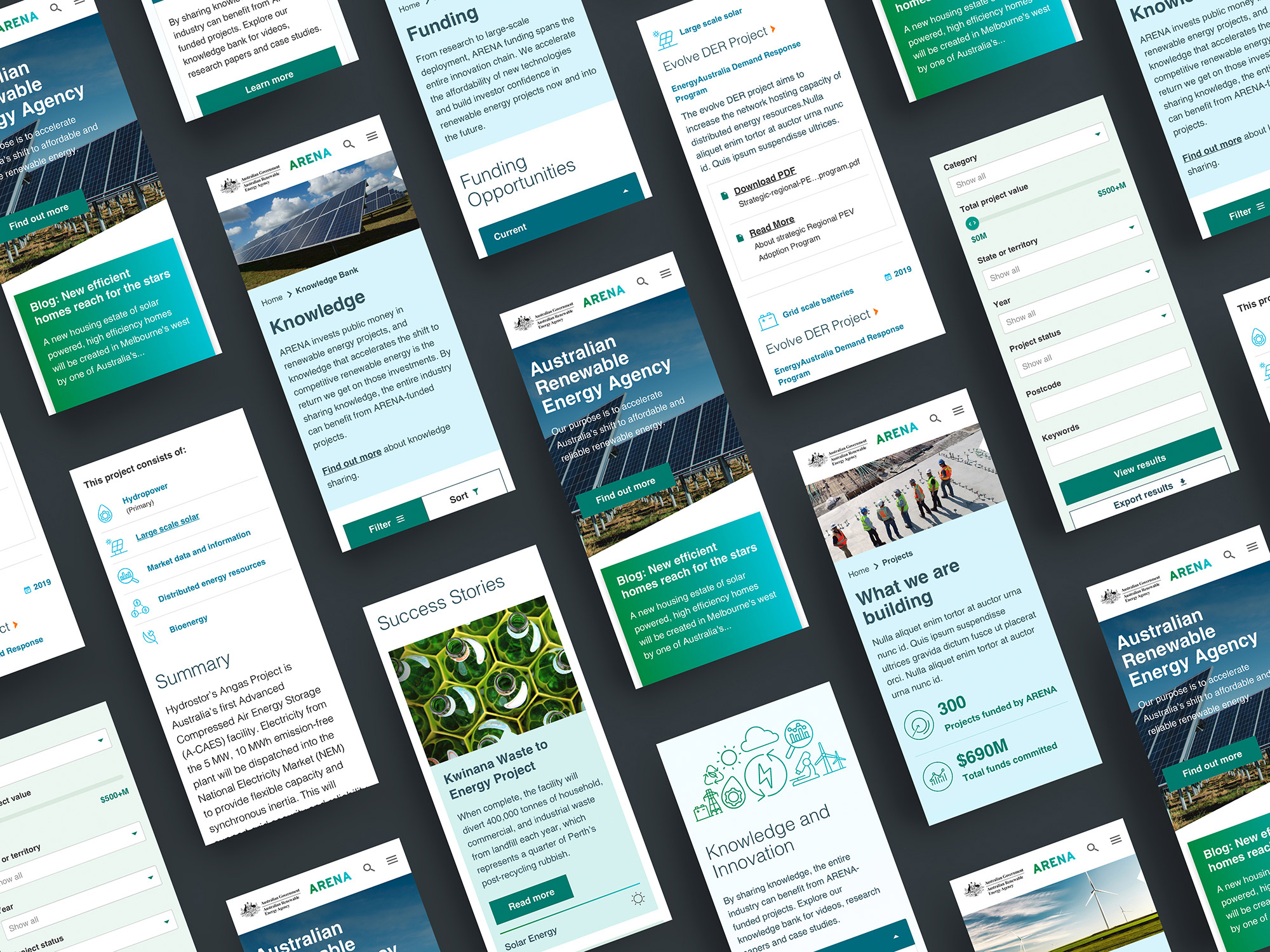 Solution
We started the project with a collaborative workshop involving key stakeholders and decision-makers. This enabled us to define and determine an approach in line with ARENA's corporate strategy.
The research and discovery phase included more workshops, a stakeholder survey, phone interviews and technical and accessibility audits. We also undertook a series of activities to redefine the site's user experience and improve its information architecture.
Then, we co-designed, launched and tested the optimised site using WordPress and a mobile-first approach. This included interactive features to streamline funding applications, project browsing and access to reports, news and blog entries. We improved local and global search features, allowing users to filter results. We also launched a new ARENAWIRE sub-brand to differentiate the blog from ARENA's corporate brand.
The result
ARENA's new website solidifies the agency's status as a renewable energy champion. Users and funding applicants can now easily find the information they need, which has enhanced their experience and reduced the burden on ARENA's support team.
Six months since its launch, visits to the website are up by 12% and the number of visitor sessions is up by 20%.
The new ARENA website also received a 2019 GOV Design Award.
Let's work together
Do you want to join ARENA as a Webplace success story? Let's chat about how we can help your business grow through the power of custom digital solution design.
Contact Us Now